KARTSPORT CLUB OF THE YEAR 2013!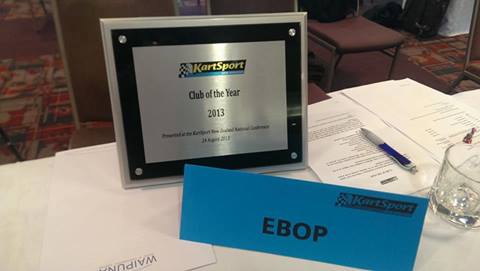 FAMILY FIRST TO THE CHEQUERED FLAG!
Local Eastern Bay of Plenty karters Conrad, Hayden, and father Graham Knight had an outstanding day at the final points round for the year at Kartsport EBOP, the trio all came away placing 1st in each of their classes.
7 years old Conrad in Cadet Class drove his little heart out, winning 2 heats a 2nd and a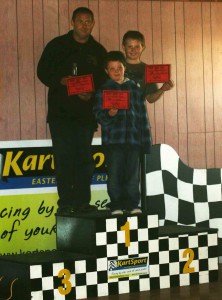 4th to put him on pole for the final where he lead from the start to the finish to take 1st place overall. Hayden in JR Class drove just as hard and had some great battles with the other local drivers Cristian Pratt and Adam Bell, Hayden won 4 out of the 5 races giving him a 1st place for the day, Graham in Clubsport120 looked fast all day with consistent driving and placing in the heats saw him take pole for the final, but he didn't have it all his own way with fellow driver Steve Muggeridge taking the win in the final, Graham came in 2nd place but a 2 points gap saw Graham take 1st overall for the Day.
It's believed that this is the first time in the EBOP Kart club's history that a family in the club has had 3 members from one family all winning their classes on the same day of racing.
"The luck was on our side today, we got the kart set right and the boy's drove awesome, the new track surface is excellent and the club has done an excellent job in getting the track up to a more professional status, with the clubrooms also a new addition this year, we still have plenty of work to do to finish it off, but it's a credit to the members and club committee to see the sport growing in the area." – Graham Knight.
The next major project is to get power to the clubrooms at a cost of $10,000, so there's a bit of fundraising to do and the hope of grants to help, The club recently fundraised and received grants to re-seal the track at cost of $120,000 and would like to thank the Southern Trust, Lion Foundation and Pub Charity for the grants and to members that have given debentures that have helped us get the track sealed.
Being one of the small karting clubs in the country, Kartsport Eastern Bay of Plenty has produced some great driving talent of late, with drivers such as Taylor Harte, Mitch Sanders and Reece Hendl-Cox all winning NZ titles, plus Steve Muggeridge placing 1st, Lesley Rawlinson placing 3rd and Graham Knight placing 4th in Clubsport120, and Reece placing 1st and Hayden Knight placing 5th in JR at the recent CRC Speedshow Top Half series.
See us at Kartzone Raceway on College Road, Edgecumbe, if people are interested in motorsport, this is an affordable option and you're all more than welcome to come to the track and see what it's all about, you may even be able to have a drive. You can start karting from the age of 6 so age is no barrier, for any info or to contact us go to our contact page or have a look at the national site – www.kartsport.org.nz